Foody 12 Hydroponic Tower - 44 Plant Ebb and Flow System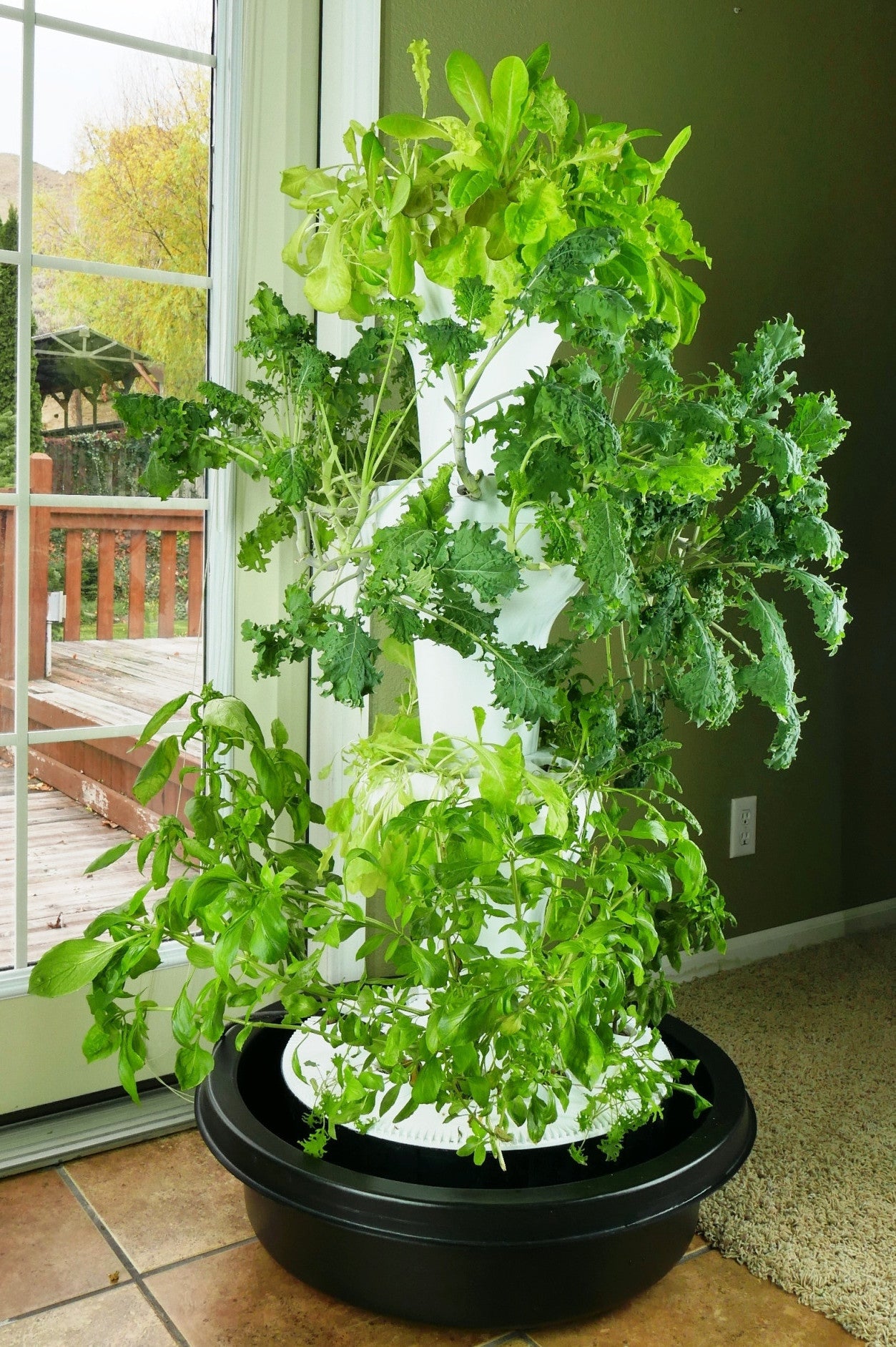 Advantages

Easy & Convenient Planting: The removable net pots make planting and switching out plants extremely easy.
Our most productive tower: Grows 44 plants in just over 2 square feet of floor space. Provides the lowest cost per planting site compared to all other competing available hydroponic towers. 
Deep water technology: Innovative hydroponic system automatically circulates water and nutrients. No potting soil needed.
Grow all year: Ideal for growing indoors all year round. Harvest multiple times a year!
Stay off your knees: Tower stands 4 feet tall. Plant & harvest standing up.
Healthy & Safe: Made of a heavy-duty plastic that's BPA free, which means no concerns about adding toxins to your organic plants. 
Algae Resistant:

Anti-oxidant and UV reduction elements help reduce chances of algae formation.

Description

The Foody 12 is designed for maximum plant production, efficiency and planting convenience. Used in commercial greenhouse applications, the Foody 12 helps growers increase plant production 75 to 100 percent by taking advantage of the system's efficient use of space, water and nutrients. 

For an example, see how Microsoft is using the Foody 12 to grow fresh produce in employee cafes. 

How it Works

This system encourages rapid plant growth by circulating water and nutrients from the base reservoir through the pods and the plant roots. Plant starts are placed directly in the small, removable net pots and their roots reach into the water below. The tower may be rotated for optimum light exposure. 

Each of the three growing pods have 12 planting pockets. The base has 8 growing pockets, making for 44 total.
Plants may be easily planted and removed using individual net pots (included).  (Not suitable for root crops such as beets, potatoes, carrots.)

NOTE: Hydroponic systems like this one require that plant nutrients be added to the water, and that salt levels and pH levels are monitored and managed. If you are new to hydroponics, please see our how-to guide on growing hydroponically with a Foody.

Indoors: This tower system is best suited for indoor use, however if growing outdoors, use in climates where temperatures don't regularly exceed 85 F, or fluctuate wildly. (An option for growing outdoors in warmer climates is our Foody 8 Hydroponic System.)  We do not recommend ordering an additional 4th growing pod for the Foody 12 as it may increase instability due to height and weight of tower.

This System Includes

magnetic drive pump

all piping and tubing

3 growing pods (each can hold

12 plants)

44 

net pots

a base tank; reservoir lid with two access ports & 8 planting pockets

quick assembly guide

Foody hydroponic growing guide

emitter for topmost growing pod

rope wicks (for base net pots)
Small 1lb bag of clay pebbles (for use in the net pots to help block sunlight once plants are established)
Note: pond liner around base reservoir of one of the towers pictured is not included

Dimensions

Height: 48"
Base Reservoir: 19" diameter; Growing Pods: 12" diameter
Total water holding capacity: 12 gallons (7 gallons in reservoir & 1.75 gallons per growing pod)
Shipping container: 20" x 20" x 21"
Weight: 24 lbs (empty)  
Total weight after filling with water: 102 lbs 

Set Up

Interested in seeing what it looks like to set up a Foody 12? Here's a blog post one of our customers wrote detailing his experience.